Barry Will Bring Major Flooding, A Storm Surge Of Up To 3-6 Feet & Tropical Storm To Hurricane Force Winds To Parts Of Louisiana Later Tonight Through Saturday
Written by Rob Lightbown on July 12th, 2019
If you are looking for information on Invest 93-L which is located over the eastern Atlantic, please scroll down to the end of this discussion.
Tropical Storm Barry:
8 am EDT/7 am CDT Statistics:
Location: 28.2 North Latitude, 90.3 West Longitude or about 120 miles to the south-southeast of Morgan City, Louisiana.
Maximum Winds: 50 mph.
Minimum Central Pressure: 998 Millibars or 29.47 Inches.
Forward Movement: West-Northwest at a forward speed of 5 mph.
Even though Barry looks more organized on satellite imagery than it did at anytime yesterday, it does not look like a typical tropical storm. In fact, it looks very much like a sub-tropical storm. The reason for the one-half of a storm look of Barry is due to some mid and upper level dry air as well as northerly wind shear. This northerly wind shear continues to push some drier continental air into the circulation which is leading to the one-half of a storm look on satellite imagery.
I would like to emphasize though that the disorganized look that Barry has DOES NOT change the major flood threat for much of Louisiana.
Even though Barry looks quite disorganized, it is still gradually strengthening. Reconnaissance aircraft investigating the storm have found 50 to 60 mph maximum winds and a central barometric pressure of 999 millibars.
An analysis of water vapor satellite imagery indicates that the atmosphere may be moistening up on the northern and eastern sides of Barry and if this continues, it may help it to wrap the convection all the way around during the next 12 to 24 hours. Should this occur, then we could see some fairly steady strengthening later today, tonight and into Saturday until Barry makes landfall.
Virtually all of the model guidance forecasts that Barry will strengthen right up to landfall. Even with that reality virtually all the guidance has intensification taking place up to landfall with both the GFS and European model bringing Barry right up to hurricane strength.
As for track, the GFS model forecasts that Barry will move onshore near Morgan City, Louisiana during Saturday morning and putting the heaviest rainfall amounts right over southeastern Louisiana, including New Orleans. The European model guidance shows Barry coming ashore near New Iberia, Louisiana around midday Saturday and forecasts that the heaviest rainfall amounts would occur from Morgan City northward through Baton Rouge.
Here Are My Thoughts: Given that the amount of dry air on the northern side of Barry seems to be decreasing and given that it seems that there are hints that the thunderstorm activity is beginning to wrap around the center, I think that we should see steady strengthening right up to landfall. In fact, I still think that it will be a hurricane when it comes ashore along the Louisiana coast somewhere between New Iberia and Morgan City around midday Saturday.
Forecast Impacts:
Heavy Rainfall: By far, heavy flooding rain is the major concern with Barry. Significant to major life-threatening flooding is expected across eastern Louisiana and southwestern Mississippi beginning later tonight and continuing through Saturday. This is expected to be a slow moving storm that will concentrate the highest moisture amounts just to the east of where it crosses the Louisiana coast.
Extreme hourly rainfall rates of 3 to 5 inches with 24 hour rainfall totals of 15 to 25 inches are expected across eastern Louisiana with 10 to 20 inches of rain extending northward into southwestern Mississippi. These extreme rainfall amounts include Baton Rouge and New Orleans. Major life threatening flooding is expected for eastern Louisiana, including Baton Rouge and New Orleans.
Significant flood issues are expected to extend northward during Saturday into southwestern Mississippi, including Vicksburg and Hattiesburg. In addition, areas as far west as Lake Charles is expected to see significant flood issues.
I cannot emphasize enough of how serious the flood threat is with this storm. Please do not take it lightly.
Storm Surge:
Mouth of the Atchafalaya River to Shell Beach: 3 to 6 Feet.
Shell Beach to the Mississippi/Alabama Border: 2 to 4 Feet.
Intracoastal City to the Mouth of the Atchafalaya River: 3 to 5 Feet.
Lake Pontchartrain: 2 to 4 Feet.
Winds: Tropical storm force winds have arrived on the extreme southeastern Louisiana coast. Winds are expected to increase throughout the day today reaching tropical storm force across much of southern Louisiana by later today. Tropical storm conditions will continue across much of southern and eastern Louisiana tonight into Saturday.
A period of hurricane force winds are possible late tonight through Saturday morning in an area of the central Louisiana coast that includes Lafayette, New Iberia, Patterson, Morgan City, Houma and Grand Isle.
Tornadoes: A few tornadoes are possible today, tonight and Saturday across southeast Louisiana, southern Mississippi and southern Alabama.
Model Track Forecast For Barry:

Model Intensity Forecast For Barry:

Satellite Imagery Of Barry:

Invest 93-L: I'm also keeping an eye on Invest 93-L, which is a tropical disturbance over the eastern Atlantic. It appears that the prospects for development are low as it will be moving into an environment of dry air and somewhat increased wind shear.
One thing that concerns me though is that the SHIPS intensity guidance forecasts favorable environmental conditions for the next several days. This flies in the face of the global model guidance which shows increasingly more unfavorable conditions.
At this point, I think that an area of dry air to its west is what will quash any development chances this weekend. With that said, I'm going to be keeping a very close eye on Invest 93-L as it is only 3 to 4 days from reaching Barbados and the southern Lesser Antilles. I will update you if there are any changes with Invest 93-L.
Invest 93-L Information: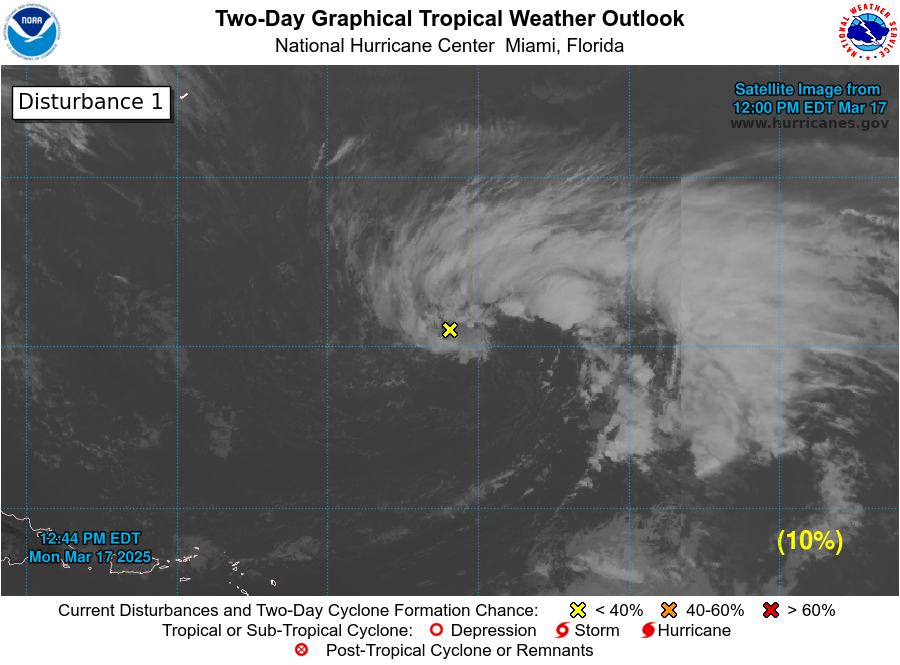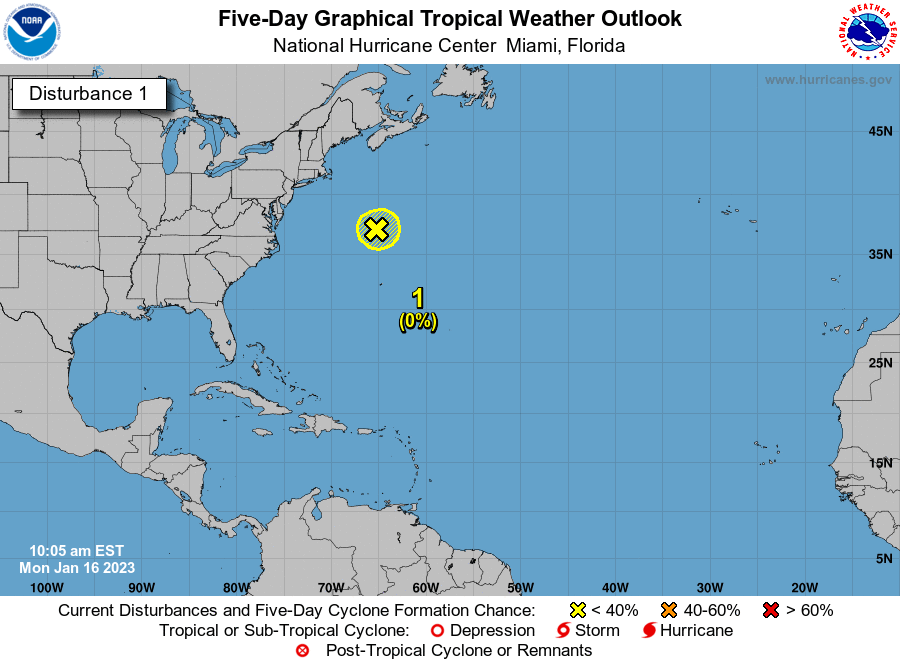 Model Track Forecast:

Satellite Imagery:
The next tropical weather discussion will be issued on Saturday Morning.